What are the 3 things that can happen when pricing a home? You can:


Underprice
Price it "Right"
Overprice
In a growing market with prices climbing up particularly in the most active season in Boston traditionally – spring, sometimes there's a fine line between #2 and #3. Incidentally we're in that exact kind of market right now in Boston.
This is a short version of pricing fundamentals discussion and why #3 makes no sense, unless you absolutely don't care whether you sell or not. Do your homework upfront side by side with your Realtor to understand price points and competition landscape.
A quick reminder on asking price vs. fair market value:
Property's Asking price = Educated guess on what current market is willing to pay for it.
Property's Fair Market Value = Actual price range buyers are willing to pay evidenced by offers.
First things first: Review market activity with your agent from several angles including 1) price per square foot range for sold, under agreement and active for sale properties comparable in age, condition and location 2) current competition buyers will compare your property to.
Secondly, review "pricing pyramid" to understand the basic psychology of the market.
For example, someone selling a luxury property may think pricing it above their fair market value guesstimate should only bring "serious buyers". The reality is at 10% / 15% above "fair market value" you may put off 90% of the market from even visiting the property and real estate is rarely bought virtually / online by a happy-go-lucky sheikh, who isn't counting money. Even very financially capable buyers are still not interested in "overpaying", so pricing your property attractively, i.e. at / slightly below market value, will
1) compel majority of potential buyers to rush to see it (goes without saying that quality marketing and photography online is key)
2) ensure no objection to price as first thing on buyers' mind
3) let buyers recognize superior value in the context of other properties available and understand they will probably need to compete for it
Another point about "overpricing" on purpose – no matter where you price the property, there's very VERY little chance of someone offering what you're asking. Ultimately it comes down to what a buyer can buy for their money. If they see better or similar options for less money, they'll deduce "fair market value" on your property is around the same numbers (and so will bank appraisers if buyers will be financing).
This really applies to properties in every price niche, but it's most frequently the luxury properties that end up overpriced and sitting on the market significantly longer than non-luxury.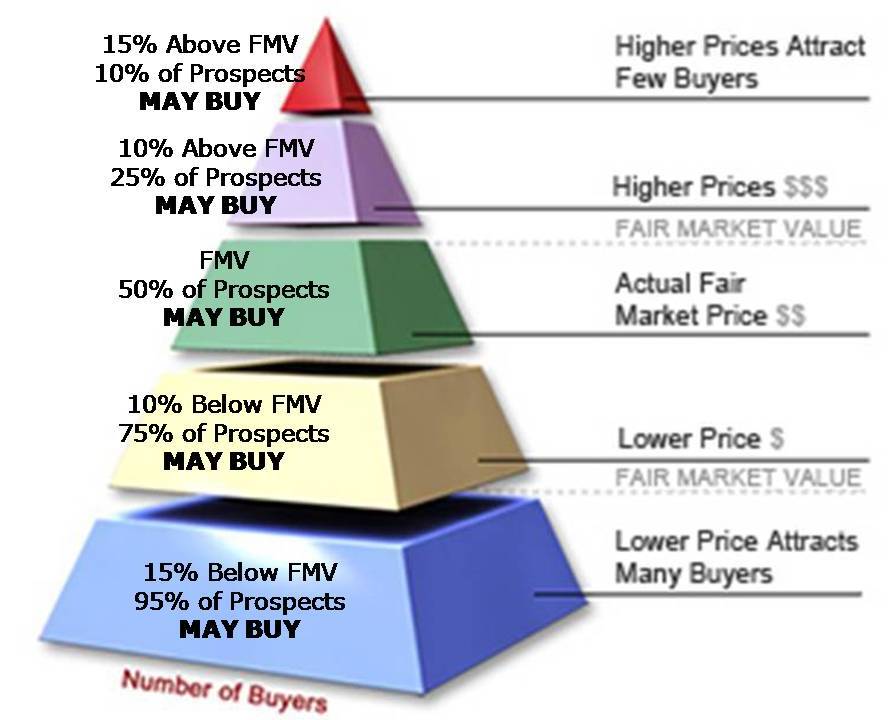 If you already listed your property and wondering when to revisit pricing – a good benchmark is "3 weeks / 20 showings". Don't count curious neighbors and casual Open House goers naturally, but "3 weeks / 20 showings, whichever occurs first, is usually a point at which you can trust the market feedback. Those "serious buyers" have seen the property.
Pricing a property is a mix of mathematical logic and psychology – make sure to have an in-depth discussion with your Realtor before you decide on the price. Review the MLS data together. Don't just ask for a listing price number! Arrive at it together and make sure your Realtor understands factors affecting your decisions like whether you absolutely need to sell or can wait till the next season's hike, or urgency of needing to sell to meet some obligations etc. So:


Make time to research the market and arrive at listing price with your Realtor before listing


Once listed, monitor current competition to understand what your potential buyers are comparing your property to. The easiest way to see things through buyers' glasses is to sign up for MLS property alerts for similar homes


Ask your Realtor for an update and potential re-grouping after the 20th showing / 3 weeks
GOOD LUCK!